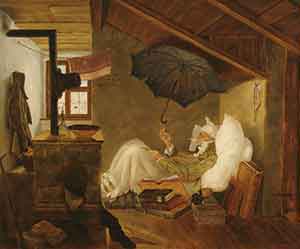 Carl Spitzerg – Hilarious! Hilarious?
By Prof. Francesco Carelli
Some 130 years after the death of the "most popular German painter", the Leopold Museum is presenting the first exhibition on the artist Carl Spitzweg (1808–1885), whose oeuvre is commonly seen as closely allied to the Biedermeier period and the definitions of tranquility, petit bourgeois idylls and philistinism associated with it.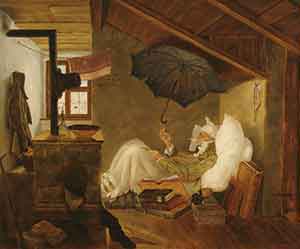 While the Biedermeier represents the specific cultural-historical atmosphere surrounding Spitzweg's oeuvre, the conventional definition of this period falls significantly short in the case of the artist, as it prevents a more complex and progressive interpretation of Spitzweg's works and thinking. For, as the approximately 100 exhibits illustrate, such an interpretation must include an analysis of social hierarchizations and power relations, an examination of gender relations as well as the subtle questioning of harmony in an ostensibly ideal world.
The failure of the ideals propagated by the French Revolution and Metternich's period of Restoration initiated in the wake of the Congress of Vienna in 1815, which would last until the Revolutionary Year of 1848, brought about the Biedermeier period characterized by a withdrawal into the private sphere with fundamental repercussions for everyday life, religion, morals, society and politics.
Spitzweg's oeuvre, which is commonly and often wrongly categorized as harmless Biedermeier art, reflects the political developments of this time in a variety of ways.
In order to broaden this perception of Spitzweg as a "harmless" Biedermeier artist and to tap into hitherto unexploited potentials of reception, the exhibition focuses explicitly on those aspects of the artist's works that are critical of his time and the society he lived in. It shines the spotlight on the subtly ironic yet unmistakable criticism he levelled against the often hedonistic and therefore hypocritical clergy, the corrupt or bored legislature and executive branch as well as the saturated civil service and middle class.
Spitzweg's oeuvre also boasts manifold facets of poetry and idyll, of humor and (self-)irony, and is studded with political and cultural-analytical allusions with a critically-reflected humor which, deployed as a weapon, shows everyday life from a different perspective and thus evokes complex dimensions.
Only at first glance do Spitzweg's works resemble idyllic cityscapes populated by people dressed in folkloristic attire, including guards, musicians, singers and female protagonists. A closer inspection reveals feudal, hierarchic, patriarchal and authoritarian structures referring to a system of bigoted restraints characterized by the definitions of morals of Spitzweg's times. According to Christian Jensen, life in these renderings appears "blocked by barriers, walled up with petty things and constraints".
Carl Spitzweg commented not only on the moral constraints of his time with irony but approached the federal structures, such as the legislative, executive and judicial authorities, in a similar manner, choosing encrypted strategies to level criticism against the existing conditions. Many of his works reveal his scornful attitude towards the powers of the state, be they customs officials, guards or citizen soldiers. The unemployment of uniformed officers during peaceful times following the Napoleonic Wars encouraged Spitzweg to create grotesque depictions, for instance of knitting guards.
Spitzweg was also unafraid to address the corruption and injustices of the police state.
Spitzweg's subtle realism reveals various facets of poetry and idyll, of humor and irony. His works are full of political and cultural-analytical allusions that were anything but harmless and show him as a sensitive, at times.
Tags In