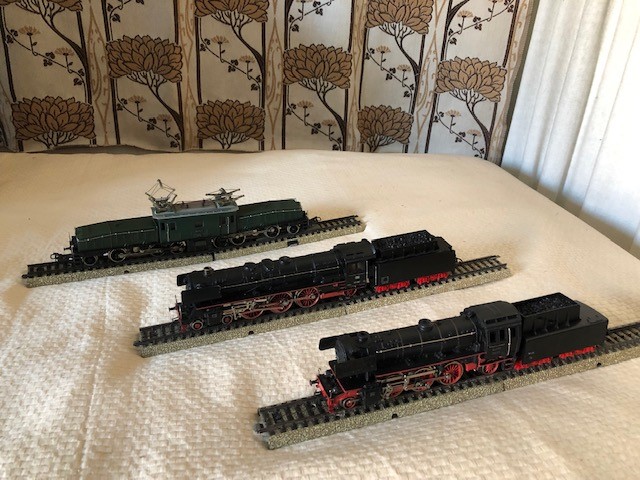 Marklin, the quality trains for our game memories
Prof. Francesco Carelli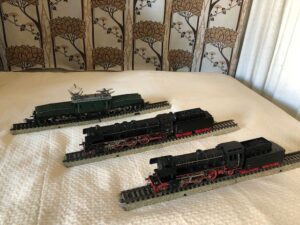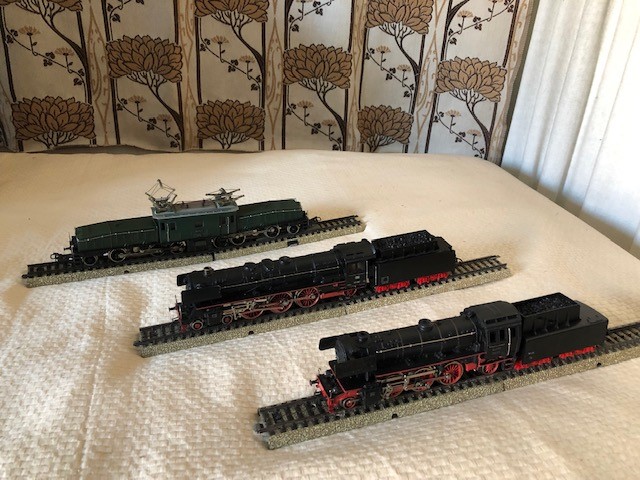 Photo: the mythical " crocodile" for heavy soils, the3048 that emits smoke from the chimney, the 3005 for fast trains
Gebr. Märklin & Cie. GmbH or Märklin (MÄRKLIN or MAERKLIN in capital letters) is a German toy company. The company was founded in 1859 and is based at Göppingen in Baden-Württemberg. Although it originally specialised in doll house accessories, today it is best known for model railways and technical toys. In some parts of Germany and in Sweden, the company's name is almost synonymous with model railways.
Märklin released its first wind-up train with carriages that ran on standardised track in 1891, noting that railway toys had the potential to follow the common practice of doll's houses, in which the initial purchase would be enhanced and expanded with more accessories for years after the initial purchase. To this end, Märklin offered additional rolling stock and track with which to expand its boxed sets.
Märklin is responsible for the creation of several popular model railway gauges or scale, noteworthy exceptions being N scale and Wide gauge. In 1891, Märklin defined gauges 1-5 as standards for toy trains and presented them at the Leipzig Toy Fair. They soon became international standards. Märklin followed with 0 gauge (by some accounts as early as 1895 or as late as 1901), H0 scale in 1935, and the diminutive Z scale, 1:220, in 1972  — smallest in the world for decades  — under the name Mini-Club (the scale of Z was assigned after the product line was introduced). Mini-Club was developed as Märklin's answer to Arnold Rapido's introduction of N gauge.
Today, Märklin manufactures and markets trains and accessories in Gauge 1, H0 scale, and Z scale.  Märklin's older trains are considered highly collectible, and Märklin's current offerings enjoy premium status among hobbyists.
Märklin also produced numerous other toys over the years, including lithographed tinplate toy automobiles and boats. From 1909 until well into the 1950s they sold a range of alcohol-burning model steam engines. These were very educational toys, and could be linked to dynamos to provide lighting.
The Märklin system is the technique of using a third rail concealed in the roadbed with only small studs protruding through the ties of the track. The two outer rails are connected electrically. This provides the simplified wiring enjoyed by larger gauges—such as for reverse loops—without seriously detracting from the realism of the track because only two of the rails are visible.
The Märklin system has some incompatibility with other manufacturers' H0 trains. Because the wheels on Märklin's cars are not insulated, it causes shorts if its cars are used on other manufacturers' H0 track without changing the wheels. The profile of the wheels are also different. Additionally, for many years Märklin was the only brand that used AC for its H0 scale trains, although in the 60s Fleischmann, HAG, Röwa, Roco and others started producing trains for the Märklin system.
Over the years, the Märklin marque became valuable to model train collectors, some of the very early models fetching impressive prices at auction. The range of products is extensive, and collectors also pay attention to the packaging that was used for the products. Collectors also look for rare and hard to find models, such as the SBB Crocodile model, the AMTRAK ICE model, the Western Pacific 'California Zephyr' model, and the famous Union Pacific Big Boy model, among many others.
The Märklin toy company systematically included a print run number on almost all printed material, including the boxes in which their products shipped. These print run numbers indicate the printer and also the month and year of printing. This is useful for dating an item that is known to be associated with some printed material. The second group of digits indicates the catalogue number. The last set of numeric digits in the print run number indicates the month and year that the item was printed. The last group of letters identifies the printer.
Koll's Preiskatalog issued by Joachim Koll in German lists all 00/H0 models and provides price estimates. Märklin's products are mainly German (DB) model trains.
Nominal size H0
The largest segment of product range and sales is nominal size H0, with a scale of 1:87 and an H0 track. Märklin introduced it in 1935, and today it is the most common size worldwide. The company is market leader in H0 in German-speaking countries (Germany, Austria and Switzerland), having a market-share of approximately 50 per cent.  Also, in this area Märklin is the only company to offer a complete assortment of goods – the range in this track size consists of a huge variety of rolling stock, tracks, analog as well as digital control systems, trolley systems and other accessory parts.
Tags In