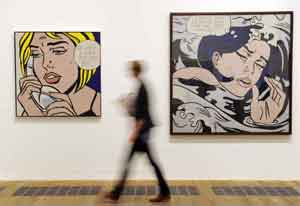 Portraying a sort of anti-sensibility that pervades society: portraying with psychology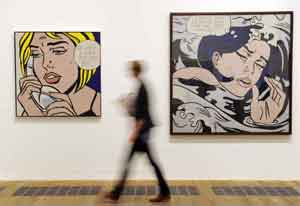 by Francesco Carelli, Professor of  Family Medicine, University of Milan, Italy
Euract Council, Executive Board
Tate Modern has staged the most comprehensive exhibition ever devoted to foremost Pop artist, Roy  Lichtenstein. Co-organised by The Art Institute of Chicago and Tate Modern, this is the first major Lichtenstein retrospective for twenty years, bringing together over 125 of the artist's most definitive paintings and sculptures.  Built on new research and scholarship. The exhibition  reassesses Lichtenstein's work and his enduring legacy.
Roy Lichtenstein ( 1923 – 1997 ) is one of the central figures of American Pop Art. In the early 1960s he pioneered a new style of painting, executed by hand but inspired by industrial printing processes  He became renowned for works based on comic strips and advertising imagery, coloured with his signature hand-painted Benday dots, as an ongoing examination of representation and originality in mass media culture.  This exhibition showcased  such key paintings as Look Mickey 1961 ( National Gallery of Art, Washington), Whamm ! 1963 ( Tate) and Drowing Girl 1963 ( Museum of  Modern Art, New York ), in which imitated the industrial techniques of comic books, using a palette of primary colours, heavy black outlines and Benday dots that simulated shadows and tonalities. The artist's rich and expansive practice was  represented by a wide range of materials, including paintings using Rowlux and steel, as well as sculptures in ceramic and brass and a selection of previously unseen drawings, collages and works on paper.
This radical new style, which he further developed in his later paintings, enabled him to reflect wryly upon the condition of  painting in an age of mechanical reproduction and omnipresent  mass media, and to portray what he described as " a sort of anti-sensibility that pervade society".
His signature style was determined by the tension between the apparent superficiality of his pictures, always anchored by finely tuned compositions, and a highly intellectual approach towards the social role of the artist and what painting means in a post – industrial world.  Dramatic close-ups of female faces such as Drowning Girl 1963 or  Hopeless 1963 feature women in states of distress or reluctant acquiescence. The war paintings are dominated by violent action and scenes of discharging weapons.  In Bratatat ! 1962a male fighter stares  vehemently at his target; in other paintings, the explosions stand alone.
Alongside the classic paintings of romantic heroines and scenes of war for which Lichtenstein is well known, this exhibition showed other early Pop works, such as images of  everyday objects in black and white.  Also on display are Lichtenstein's artistic explorations depicting landscapes, mirrors and so-called " perfect " and " imperfect " paintings, as well as works which highlight Lichtenstein's engagement with art history, revealing his lesser-known  responses  to Futurism, Surrealism and German Expressionism.  In the final years of his life, the artist went on to create a series of huge female nudes and sublime Chinese landscapes, neither of which have previously been shown within the wider context of his oeuvre.
Tags In