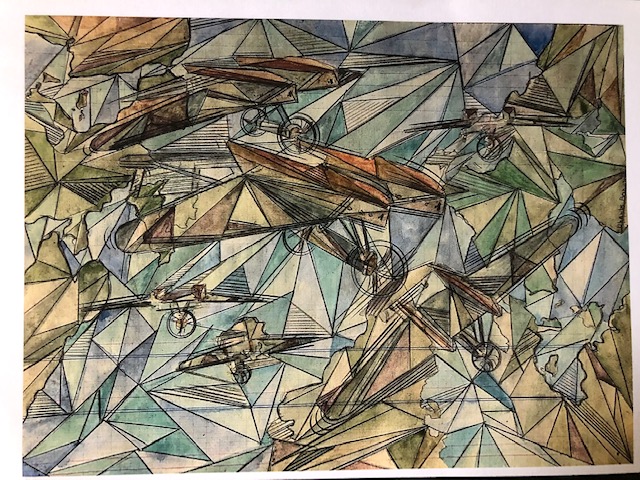 Uberto Bonetti , designer and great aero-futurists
By Prof. Francesco Carelli 
Uberto Bonetti – Viareggio, 1909 –  Viareggio, 1993) in 1926 take part in the contest for the poster for the Viareggio Carnival, edition won by Lucio Venna with whom begin a collaboration. In 1929,is one of decorators of  "The dance of immortals" in Viareggio.
Here he knows and will friend with  many famous people including Luigi Pirandello, Filippo Tommaso Marinetti, Primo Conti, and many famous personalities of the world of culture but also politics.   Almost all will be portrayed by even in caricature since his satirical cartoons are now known and published in some of the most important newspapers in Italy such as Corriere della Sera.
He  begin to deal with fashion and develops a series of studies around the masks of the commedia of art, which, reinterpreted in a synthetic key, will lead to the creation of the Burlamacco, which is printed as a poster for the Carnival in 1931.
Since 1928, Bonetti experience the thrill of flight taking off the seaport of Torre del Lago with S16, piloted by the lieutenant Filippi with whom he'll become friend. The aviation experience brings him closer to avant-garde research and joins the second wave of Futurism: Aerofuturism.   He also knows the Regime's aviator and cultural operator, Krimer; Italo Balbo, Costanzo e Galeazzo Ciano, Fortuanto Depero, Curzi Malaparte, la famiglia Agnelli.
From 1932, he starts working at movie factories Pisorno, meets and frequents celebrities and the stars and divas of the so-called period "white phones".  He travels a lot and extends his activities from the field of painting to that of graphics, from architecture to setting up temporary events,  from fashion to design.  Some trips and stays in particular regions of Italy will be pregnant with positive operational consequences and will give further impetus to his research work.  In 1932, makes a trip to Trentino Alto Adige to add to the cycle of "aerial views on Italy" which he began 1932.
During the War, he becomes a link for the groups of partisans operating along the Gothic Line.  He joins them and during a raking action on the Tuscan-Emilian Apennines he is captured and the deported. During an Allied bombing, his studio was destroyed and with it much of the graphic and pictorial work.  The little that was saved during a move made with a cart is further devastated by a violent storm. Years of work dissolved.
In the postwar period, sick and psycho-physical exhaustion, continues to work for the Carnival of Viareggio. He knows and frequents intellectuals like  Riccardo Bacchelli, Alberto Moravia, Elsa Morante, Cesare Zavattini, Eugenio Montale, Pier Paolo Pasolini, just to  remember some.   Continues to work in the cinema industry and baptizes future great stars such as Sophia Loren, for example.
Tags In