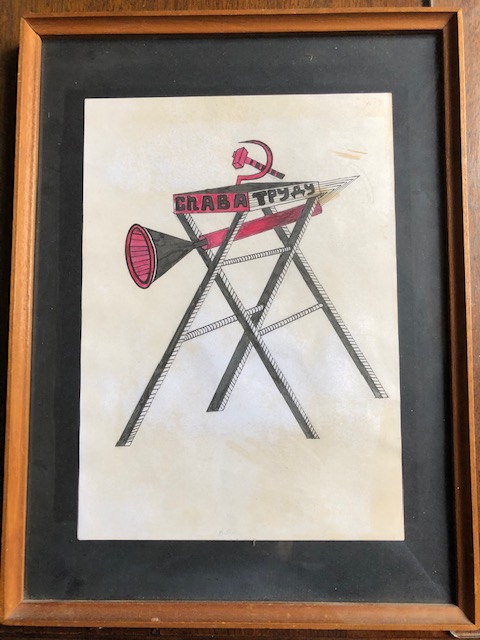 Vesnin brothers
By Prof. Francesco Carelli
The Vesnin brothers: Leonid Vesnin (1880–1933), Victor Vesnin (1882–1950) and Alexander Vesnin (1883–1959) were the leaders of Constructivist architecture, the dominant architectural school in the 1920s and early 1930s. Exact estimation of each brother's individual input to their collaborative works remains a matter of dispute and conjecture; nevertheless, historians noted the leading role of Alexander Vesnin in the early constructivist drafts by the Vesnin brothers between 1923 and 1925. Alexander also had the most prominent career outside of architecture, as a stage designer and abstract painter.
The brothers' earliest collaboration in architecture dates back to 1906; their first tangible building was completed in 1910. Between 1910 and 1916 the Moscow-based family firm designed and built a  number of public and private buildings in Moskow and Nizhny Novgorod.   During the Russian Civil War Leonid and Victor concentrated on industrial projects and teaching while Alexander had a successful solo career as theatre stage designer.
In 1922 the three brothers reunited, embraced avant-garde concepts and developed their own vision of modern architecture that emphasized functionality of buildings and modern construction technology. The Vesnin brothers won professional leadership through winning architectural contests of 1922–1925, and activities and publications of the OSA Group chaired by Alexander Vesnin.
The death of Leonid Vesnin in 1933 coincided with the government's crackdown on independent art unions and modernist architecture. Victor continued a successful if unremarkable career in industrial architecture. Alexander failed to adjust to the rise of official Stalinist architecture and quietly withdrew from public professional activities.
At the beginning of First Worl War, Alexander collaborated  with avant-garde artists Alexander Rodchenko and Vladimir Tatlin; the latter was initially Alexander's partner on Sirotkin House project but dropped out to pursue his futuristic experiments.
Alexander Vesnin's set design sketches for Alexander Tairov's 1923 production of The Man Who Was Thursday.  Around 1923  Alexander  emerged as leader of a new, modernist, architecture, due to Alexander Vesnin's solo work in graphic arts and, in particular, in theatre.  In 1917-1918 critics placed Alexander on the "extreme left" of emerging modernist art,[24] although Kazimir Malevich described his paintings as "too material".[22] As Alexander moved from fringe abstract art to theatrical design, his set shows regularly made headlines while his architectural past was nearly forgotten by contemporary press.  Alexander actively experimented with "materializing" cubist art into three-dimensional, dynamic, tangible objects. Many contemporary artists (Malevich, Tatlin ) did the same, but, unlike them, Alexander had a solid background in structural engineering and practical constructivism.
Vkhutemas
Alexander  joined the faculty of Vkhutemas during the Civil War, before the 1920-1921 conflict that split its Architectural Department into "united "  and "independent"  workshops.  Alexander was engaged in the Painting department, teaching the basic subject of Color, a subject that potentially could become mandatory for students of all departments.[48] Alexander had far-reaching plans of restructuring basic training at Vkhutemas along productivist ideas, that were cut short by its board in February 1923[50] Soon afterwards his students and staff, including Rodchenko, transferred to Ladovsky's United Workshop.
Alexander was practically ousted from Vkhutemas until the March 1924 publication of the Arcos drafts instantly made him a celebrity.[51] In the 1924–1925 season he was given a chair at a new, fourth, architectural workshop;  Alexander Vesnin chaired his department until the dissolution of Vkhutemas in 1932.
OSA Group
In December 1925 short-lived artistic unions based at Vkhutemas, MVTU and Institute of Civil Engineers merged into a new organization, OSA Group, headed by Ginzburg and Alexander Vesnin. They recruited the formerly independent Ilya Golosov and Konstantin Melnikov, making OSA the most representative left-wing architectural group since inception. The government's reluctance to recognize yet another architects' union forced OSA founders to reconsider its goals; these were proclaimed as "drafting the new, modern architectural style of large industrial hubs" and defence of constructivism as art, rather than the bare following of function. Later OSA leaders, including Alexander and Victor Vesnin, dropped the "constructivism as art" concept and frequently voiced the opposite viewpoint, that of rejecting any stylistic content in constructivism.
OSA was the only left-wing architects' union that regularly published its magazine, SA (Contemporary Architecture), edited by Ginzburg and Alexander Vesnin. Its editorial "offices" was based at the Vesnin's Moscow apartment.  Alexander Vesnin "censored" the magazine, blocking any extremist, fringe theories that the liberal Ginzburg would accept.[57] SA was issued continuously for five years, 1926–1930, and consolidated nearly all practicing constructivists, including Victor Vesnin.
Tags In