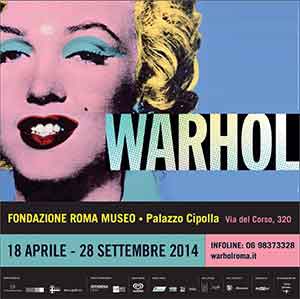 Warhol, a specific idea about death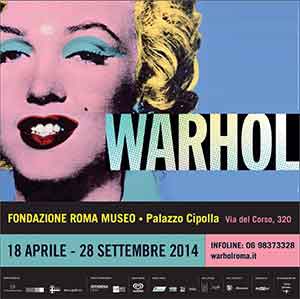 By Francesco Carelli
Professor of Family Medicine, Milan, Rome
The first major monographic exhibition devoted to Andy Warhol, the father of Pop Art, was in Rome at Palazzo Cipolla, after its highly successful period at the Palazzo Reale in Milan, where it attracted more than 225,000 visitors and was highly acclaimed by the critics.
0ne hundred and fifty works by the American artist are on display at the Museo Fondazione Roma, Palazzo Cipolla. These works have been loaned by The Brant Foundation, whose founder and President Peter Brant – a personal friend of Warhol and a well-known collector – is also the curator of the exhibition.
The exhibition illustrates Warhol's entire professional career, presenting his greatest masterpieces from each period. The exhibition provides a very rare opportunity for the public to see one of the most important collections of work by this American artist … built up not by an ordinary, albeit passionat collector, but by a great personality, Peter Brant, one of Warhol's closest friends, with whom he experienced New York's most artistically and culturally dynamic period in the 1960s and 1970s.
The exhibition narrative begins in the 1950s, when Warhol made his commercial art debut and soon started working as an illustrator for prestigious magazines (from Harper's Bazaar to the sophisticated New Yorker) and as a commercial artist. His work for a famous shoe shop inspired his creation of the enchanting gold-leaf shoes that open the exhibition together with a few examples of his Blotted Line drawings, which feature that typically fragile and interrupted effect resulting from chance rather than the hand of the artist.
A brightly coloured and early Liz from 1963 opens the next room, which also houses the first Campbell's Soup and Coke, together with Disaster (Warhol cultivated a strong attraction and repulsion for death).
Andy Warhol loved all forms of daily media and collected various newspapers, magazines, and supermarket tabloids. He recognized the power of mass-circulated media images in American culture and appropriated these as source material for his artwork. To create the painting, 129 Die in Jet, Warhol used an image from the June 4, 1962 New York Mirror and an opaque projector. He omitted the photo's caption from this hand-painted work, leaving the context of the headline unknown. In his Death and Disaster series, Warhol explores the impact of cropped images taken out of a journalistic framework and placed repeatedly into the context of art. Some of the photographs that Warhol chooses as source images for this series depict horrific scenes, such as race riots, car crashes, suicides, and nuclear explosions. Others focus on a narrative that may or may not be obvious, but is symbolic of death and disaster nonetheless, such as the Tuna Fish Disaster, Electric Chair, and Jackie series. In all of these works Warhol uses the repetition of images to mirror the repetition evident in society through media and technology.
Warhol wrote in 1985 about his death: " I always thought I'd like my own tombstone to be blank. No epitaph and no name. Well, actually, I'd like it to say 'figment'."
Death, and humans' fascination with death, runs through Warhol's work like a golden thread. His most powerful silkscreen paintings of the 1960s come from the Death and Disaster series: serially repeated images of electric chairs and fatal car accidents. His famous portraits of Marilyn Monroe only began after the actress's demise; the example at the Museum of Modern Art in New York, her head surrounded by a great expanse of gold, recalls Byzantine funerary portraiture. When Valerie Solanas shot him in 1968, his first impulse after recovering was to turn his scarred body into an image.
Warhol died in 1987, at the age of 58, after a minor operation to his gallbladder. It merited a front-page story in the New York Times and a special tribute on American television news. Yet while many admirers remember the massive, glamorous memorial service his friends threw on Fifth Avenue a few months later, the artist's actual funeral and burial were much more sober events.
As the Brant Collections are so extensive, packed with both paintings and also important drawings, all of the various themes covered by Warhol are properly represented: there are the stamp paintings, such as S&H Green Stamps, 1962, created with repeated stamps on paper ( iteration was one of Warhol's favourite linguistic codes, because it makes the subject more ʻneutral' in semantic terms ) and, from the same year, Red Elvis and the great 192 One Dollar Bills.
There are also two splendid Marilyns, one from 1962 – just after her death – and one of the four Shot Marilyns of 1964, each shot through the forehead in the studio by a friend of the photographer Billy Name.
The exhibition also features Warhol's most iconic works: the Brillo Boxes and his first Flowers, 1964, originally displayed in Leo Castelli's prestigious gallery like flamboyant wallpapers. And also Mao, 1972, with which Warhol introduced a new style of painting that was less neutral and more gestural, his Ladies and Gentlemen – the series devoted to New York's drag queens – and a large number of Skulls, which from 1976 onwards seemed to multiply in his work as it began to encompass more universal symbols.
An entire room is devoted to the Polaroids that form a sort of who's who of New York in the 1960s. Fame was an obsession for Warhol. It was no coincidence that he coined the famous and terribly prophetic phrase "fifteen minutes of fame", which is constantly cited and often misquoted. Indeed, this is something that no one would reject in the future.
The exhibition is completed with a gigantic Oxidation (1978), achieved by urinating on metallic pigments ( in his diaries he referred to them as his "piss paintings" ), thus causing an uncontrolled chemical reaction that created new colours.
There is also an immense Camouflage from 1986, the same year as the series in which he paid tribute to Leonardo da Vinci with Last Supper, also included in the exhibition. Warhol died a year later in 1987, after having miraculously escaped the grim reaper in 1968 when a "radical feminist" shot him in the stomach.
Andy Warhol was not only a sharp observer of mass society and consumerism and a brilliant sociologist of 1960s America, but he also succeeded in transforming the fetishes of the collective American imagination into art, anticipating the power that would be achieved by the mass media. He turned Coca Cola, Elvis Presley, Campbell's Soup, Liz Taylor, Marilyn Monroe, the dollar bill and Jackie Kennedy into icons.
Tags In