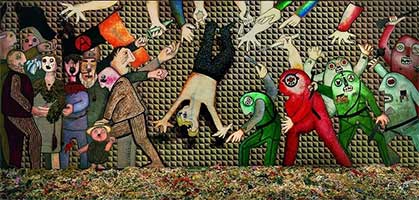 Astonishing Monsters – Apocalypse according to Baj
Francesco Carelli – University Milan, Rome
The Italian painter Enrico Baj, born in Milan in 1924, graduated in law while attending Brera Academy, founder of the Nuclear Movement was involved in Italian and international avant-garde movements, and from 1950 exhibited his works regularly in Paris. In over 50 years of activity Baj never stopped to try out and to be renewed, both in choosing themes and in using different pictorial and engraving techniques, among which also collage with a variety of materials (fabric, braid, buttons, lace, medals, coloured glass, mirror fragments, Meccano and Lego parts, articles of everyday use).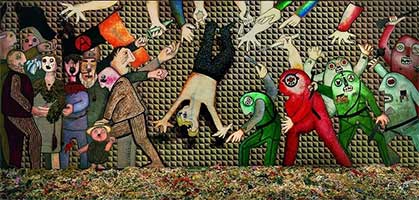 Besides this playful aspect, Baj's endeavor against power's violence and aggressiveness was constant. His criticism, although very bitter, is melted by irony, giving to his works a sort of lightness: Baj never forgets the lessons of Rabelais and, above all, of Jarry, creator of Ubu the King, emblem of power's self-important vacuity. Enrico Baj was also a writer and a critic, and an author of books and posters, and collaborated with many journal and magazines.
Starting from Nuclear paintings, showing human fears after Hiroshima, through the pictures of Generals and military parades denouncing power's arrogance, Baj came to the three-great composition of the seventies: Pinelli the anarchist's funeral (1972). Nixon Parade or Watergate (1974), and Apocalypse (1978-2001).
The exhibition "Astonishing monsters – Apocalypse according to Baj" at Leone da Perego Palace in Legnano , near Milano (Italy), from 06th November 2016 to 26th February 2017, shows the story of this monumental work in progress, created during some years by adding shape to shape, character to character, in a roundabout of wicked and grotesque creatures, a carousel of luxuriant monstrosity, a psychedelic abyss of dance macabre, designed to reflect a degraded world ,so spoiled by wealth that doesn't remark the vortex going to swallow it. Bay's exposure of the evils of contemporaneity make us think about human misery and eagerness of power corrupting even the meekest individuals, turning them into small devils.
"Beasts, beasts and beasts coming up from the sea and beasts coming up from the earth – Umberto Eco wrote about Baj's headwork.
Apocalypses' stories unwind first with a sequence of sheeting clothes painted by dripping with infernal characters and clumsy bats, then with a monumental canvas crowned by an almost puntinist sky anticipating the dawn of the new day, finally with a vanity carousel populated by 150 silhouettes painted on wood, suitable to resuscitate a medieval imaginarium, an ancient tradition of iconographies attaining the great literature of monstrous, the fauna inspiring Dante's Hell circles and Bosch's fancy, but that are for Baj allegories of human actuality, mirror of a social hell where the real evil is represented by conformism. The zoological park created by Baj where myth, legend and fiction give rise to a sinister jungle, full of nocturnal birds, half men and half birds of prey, junctions of real and hallucination creatures, is also the basis of Baj's illustrations for the famous Manual of fantastic Zoology written by Jorge Louis Borges. In Apocalypse, the realization is obtained on great monochrome sheeting clothes painted by the dripping technique, that is instinctive spots and colour soakage. Laying like sets, they act as a background to a terrifying universe, where the ancient, astonishing monsters of the past, "mirabilia" and "terribilia", of far ages come back to life in the public imagination embodying our weekday fears and our everyday ghosts.
"A very important thing for art – Baj remembered – is the faculty and the propensity to witness, the possibility to represent our epoch, our customs, our anxiety, our joys, our dramas."
On the background of consumerism society, the evil for Baj is the anythingarian attitude, the mediatic logic extinguishing consciences, the economic power spreading false terrors.
Abandoning the pure military subject, the parade and its shady much decorated Generals iconography, Baj with Apocalypse comes up to a universal meditation that, quoting also Konrad Lorentz's "The eight cardinal sins of our civilization", faces our fears, but as well exorcise them with a healthy laugh.