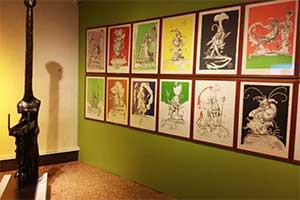 Dali' – Jewish experience and Freud
Francesco Carelli – University Milan, Rome
Which wire ties the surreal world of Salvador Dalì, the Jewish religion and the psychoanalysis of Freud? An interweaving of two graphic series concurrently to the exhibition Dalì's Experience in Bologna are exposed at Jewish Museum.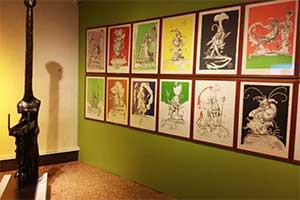 At the thought of Salvador Dalí, many people envision the artist's famously eccentric face — his wide, cartoonish eyes and the wiry mustache that seemed to defy gravity. Or perhaps his best-known canvas springs to mind, that all-too-familiar scene of watches melting in a barren landscape. According to a rising crop of scholars, however, there is more to Dalí than his outlandish personality and surrealism. These people wonder about the post-World War II Dalí — Dalí who wrote a manifesto on "nuclear mysticism"; Dalí the Catholic, the optical illusionist and, perhaps most surprisingly, the creator of Jewish art.
A suite of 25 lithographs from mixed-media paintings were made by Dalí in 1967 and '68. Commissioned by Shorewood Publishers for the 20th anniversary of the founding of the State of Israel, the series is a colorful and evocative Zionist history.
The works can be grouped — with the exception of the first and final prints — into four categories: "Exile and Hope," "The Yishuv" (the pre–Israel Jewish settlement), "Shoah" and "Independence." The first category includes a haunting image of a dark, nearly abstract, kneeling figure — the matriarch Rachel. Broad passages of muted color sweep around her, and a delicately rendered young girl lays her head beside the woman. A print from the last group features a white figure stretching its arms against a background of spiraling violet-and-blue streaks. The first measure of "Hatikvah," the Israeli national anthem, sprawls above her head and across the page.
Did Dalí secretly have Jewish ancestors? Did his wife, Gala? Did the artist feel some kind of empathy for the Jewish people? Or, conversely, was he simply trying to build a Jewish market, even exploit the Jews for commercial benefit? The picture is complicated by the fact that Dalí displayed an intimate fascination with Hitler and Franco in the 1930s and '40s, much to the dismay of his fellow surrealists.
What to make, then, of a man whose political leanings seem at odds with his artistic output? For Blumenthal, the contrast is not as harsh as it seems. "I think that Dalí was not ideologically a racist, anti-Semite, communist, socialist, fascist or anything," he said. "He was an artist. He absorbed everything from the environment, took it in, and then transformed it and sent it back out again." (For those who remain skeptical, it may be helpful to refer to George Orwell, who, in a 1944 review of Dalí's autobiography, mused, "One ought to be able to hold in one's head simultaneously the two facts that Dalí is a good draughtsman and a disgusting human being.").
We continue with the illustrations for "Moïse et monothéisme", the latest work by Sigmund Freud, in which the psychoanalyst examines the nature of the monotheistic religions, the figure of Moses in relation to the theory of the Oedipus complex and the similarities that exist between the father figure and divinity. Dalì, always fascinated by Freudian psychoanalysis, in 1975 created 10 lithographs engraved on gold plates and printed on sheepskin, where intertwines erotic figures with primitive symbols, illustrating many different religions and images that represent the Freud's hypothetical non Jewish Moses, liberator of Jewish from slavery
Tags In