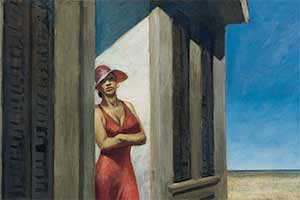 Hopper: love for clear light
By Francesco Carelli – University Milan, Rome
Some call him a storyteller, while others consider him the only artist who could capture the very instant – crystallized in time – of a scene, or the essence of a person. After all, it was Edward Hopper himself (1882-1967) – the best-known and most popular American artist of the 20th century, a man of few words, a retiring personality who loved the ocean and the horizon, and the clear light in his large studio – who explained his poetics: "If you could say it in words, there would be no reason to paint."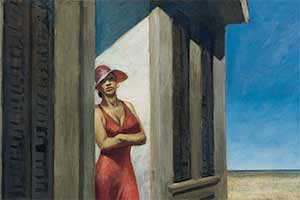 The exhibition at Palazzo Fava – Palazzo delle Esposizioni in Bologna offers a chronological overview of Edward Hopper's entire output, from his Parisian watercolours to his landscapes and cityscapes from the '50s and '60s, with over 60 artworks on display, including celebrated masterpieces such as South Carolina Morning (1955), Second Story Sunlight(1960), New York Interior (1921).
The selection spans his entire career and touches on all the techniques used by an artist who is now considered a classic twentieth-century painter.
An outstanding loan is the large painting entitled Soir Bleu(has a length of about two meters), symbol of loneliness and human alienation, made by Hopper in 1914 in Paris.
Starting with the 1920 show at the Whitney Studio Club and including memorable exhibitions in 1950, 1964 and 1980. And since 1968, when Hopper's widow, Josephine, bequeathed their collection to the Whitney, the museum has housed the bulk of Hopper's works, over 3,000 paintings, drawings and prints.
Divided chronologically into six thematic sections, the exhibition retraces Hopper's career, from his
academic training as a student in Paris to his much better-known "classical" period in the '30s, '40s and 50s, and on to his intensely iconic works in his later years. All the artist's favourite techniques are covered by the show: oil painting, watercolours and prints, with a special focus on the intriguing connection between his paintings and the studies he drew for them, an essential part of Hopper's output.
The first few sections feature a group of self-portraits, works from Hopper's time as a student, and the airy sketches and other works from his years in Paris. Masterpieces like Night Shadows (1921) and Evening Wind (1921) attest to the elegance of the artist's technique and "that sense of the incredible potential of everyday experience" that would win him recognition and mark the start of a richly rewarding career.
In the section that celebrates Hopper's superb draughtsmanship and work process, a significant subgroup of his preparatory drawings is on display, including Study for Gas (1940), Study for Girlie Show (1941), Study for Summertime (1943), Study for Pennsylvania Coal Town (1947).
The exhibition also brings together some of Hopper's best paintings devoted to women, naked or half-dressed, alone in rooms, going about their chores or in contemplative stances: works that epitomize the artist's poetics, his unassuming realism, and above all his skill at bringing out the beauty of ordinary subjects, often by means of a cinematic approach.
All of Hopper's mastery is on display, not only in his paintings but also his remarkable prints, his drawings and watercolours, in a career ranging from the turn of the last century to the 1960s: an extraordinary repertoire of the motifs and genres of figurative painting, such as portraits, landscapes, nudes, and interiors.
Hopper was long associated with evocative images of urban dwellings and their inhabitants, yet to the skyscrapers that were emblematic of the aspirations of the jazz age Hopper actually preferred the faded red brick facades of anonymous shops, or views of little-known bridges. His favourite subjects were glimpses of ordinary life in reassuring middle class apartments, often seen through the windows on his travels, along withthe interiors of cafeterias or cinemas that have gained iconic status thanks to some of the celebrated masterpieces on view. Hopper also produced marvelous watercolours during his summers spent in Gloucester, Massachusetts; Maine.
The exhibition aims to showcase Hopper's "signature style" and its legacy, as seen and imitated in many fields of the visual arts, from painting and cinema to photography and illustration, as well as advertising, television, album covers, magazine covers, comic strips and merchandising. Ironically enough, considering how reserved Edward Hopper was in his private life, hardly a fixture in the art circles of his day, at one point he became a popular painter, admired and even adored for his oeuvre that reflected all the stereotypes of the American dream, then as now.
Tags In