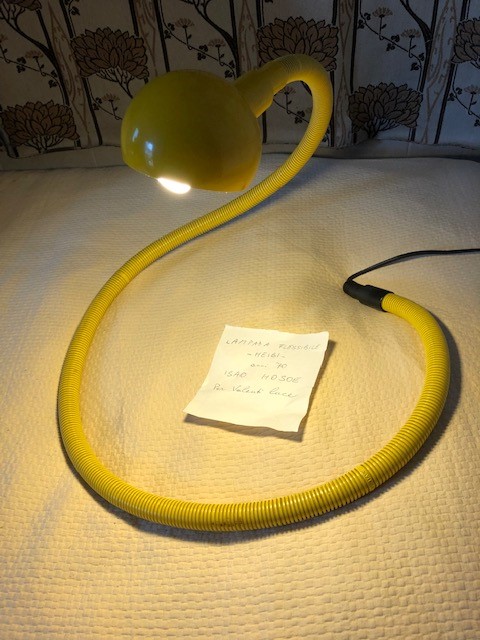 Isao Hosoe, the snake lamp, in Japanese: hebi
Prof. Francesco Carelli
This small table lamp is made up of a flexible metal tube covered with PVC and a rotating enameled aluminium lampshade. The lamp Hebi, which means snake, is a work lamp, with a fully adjustable arm to obtain a beam of light directed at the desired point. The metal tube can be spread entirely on the surface of the table. The lamp is equipped with an in-line switch, the design is by Achille Castiglioni.
The Hebi is a refined example of design and high engineering, which embodies the flexibility and personality of other Italian designs of the late sixties. Despite its Pop inspiration, however, the Hosoe's lamp is designed for a work environment. He found the simple flexible tube in a shop at San Lorenzo's Columns in Milan, on sale for just a penny a meter. It was a flash of genius that inspired him together with Valenti to work this precious material in many ways in order to create a lamp that could stand on its own bending the tube so as to form a base.
The basic concept of this product is the movement: with its soft curves it unfolds upwards, but its secret is that there is no base, making it useful and allowing immediate interaction by those who use it.
Hosoe was born in Japan in 1942, where he studied aerospace engineering. In 1967 he moved to Italy and worked with Alberto Rosselli until the mid – seventies, and then opened the Design Research Center in 1981 and finally own studio in 1985, the Isao Hosoe Design. Valenti is an industrial lighting company founded in 1929 and generally associated with innovative experimental and technical products in the sixties. This is one of Valenti's most successful products and it very well encapsulated the futuristic and slightly eccentric spirit of that decade.
Tags In