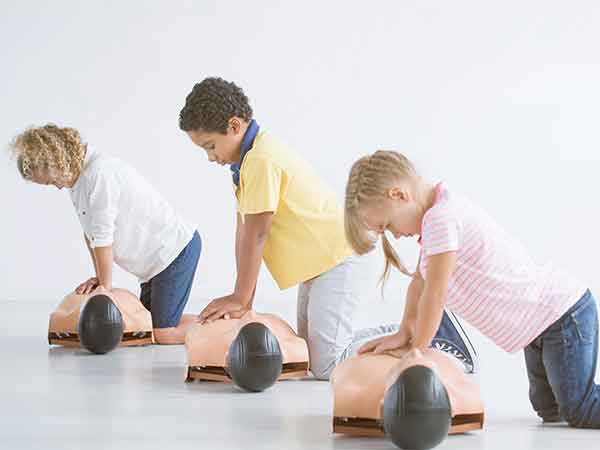 Never too young to save a life
Children as young as 10 are learning first aid and saving lives in Greece. The results of the nationwide programme are presented on ACVC Essentials 4 You, a scientific platform of the European Society of Cardiology (ESC).
"Fourteen-year-old Nefeli took the course and became the first student in Greece to save another child, and one of the few children in the world to bring a cardiac arrest victim back to life," said study author Evangelia Sigala, a PhD student and nurse at Hippokration General Hospital, Athens. "Ten-year-old sister Danae was drowning in a pool and had stopped breathing. Nefeli used her training and performed CPR."
Cardiac arrest occurring outside of hospital is a major health problem in Europe and the US. Greece has some of the lowest rates of both survival and bystander cardiopulmonary resuscitation (CPR) in Europe. "Kids Save Lives- Τα παιδιά σώζουν ζωές" (kidssavelives.gr) was set up by Mr. Anastasis Stefanakis of the National Emergency Aid Centre in Athens to teach children how to perform CPR during the first critical minutes of cardiac arrest.
This is the only national, volunteer programme endorsed by the Greek government. The Ministry of Education has authorised school principals to reach out to programme organisers and to hold the course during school time.
During the four-hour classes, children aged 10 and above learn how to assess a collapsed victim and check for responsiveness, how to call the emergency services, how to perform chest compressions and rescue breaths, the recovery position, how to prevent and treat prehospital trauma, and how to use an automated external defibrillator (AED). Courses are taught by more than 700 volunteer instructors certified by the European Resuscitation Council (ERC).
"Children practice on manikins and in virtual reality scenarios, and we have noticed that it is the younger students who have exceptional abilities and the most passion about doing the best CPR they can," said Ms. Sigala. "After the course, students not only feel confident to perform CPR, but they can be excellent instructors as well. As a result, in 2017 the ERC lowered the minimum age for certified instructors from 18 to 16 and in Greece we now have some of the youngest trainers in Europe."
In 2016 to 2019, a total of 42,000 people (38,500 students and 3,500 teachers) at 470 schools learned CPR. In the last three years, 18 cardiac arrest victims have been resuscitated by course participants and trainers. Six young children and three adults who almost died from choking were also saved by trained first responders. More than 100 AEDs have been placed in schools and communities and a national AED map has been designed: a free app locates the nearest defibrillator.
"Children are getting inspired and taking action," said Ms. Sigala. "To take one example, students organise events to raise money and buy an AED for their school."
She continued: "The next step is to establish CPR training as a mandatory school subject in both junior and high school. Mr. Stefanakis, programme president, has applied to the Ministry of Education for a law to be enacted. The Hellenic Parliament is expected to vote on the proposal in the near future."
In 2022, the LIFEFORCE programme will be launched to introduce 5 to 10-year-old children to CPR through fun activities.
Essential components of a CPR programme in schools:
Support from the government, including the Ministry of Education.
Sufficient number of certified instructors.
Standardised training programme.


---
Source: European Society of Cardiology (ESC)
Tags In