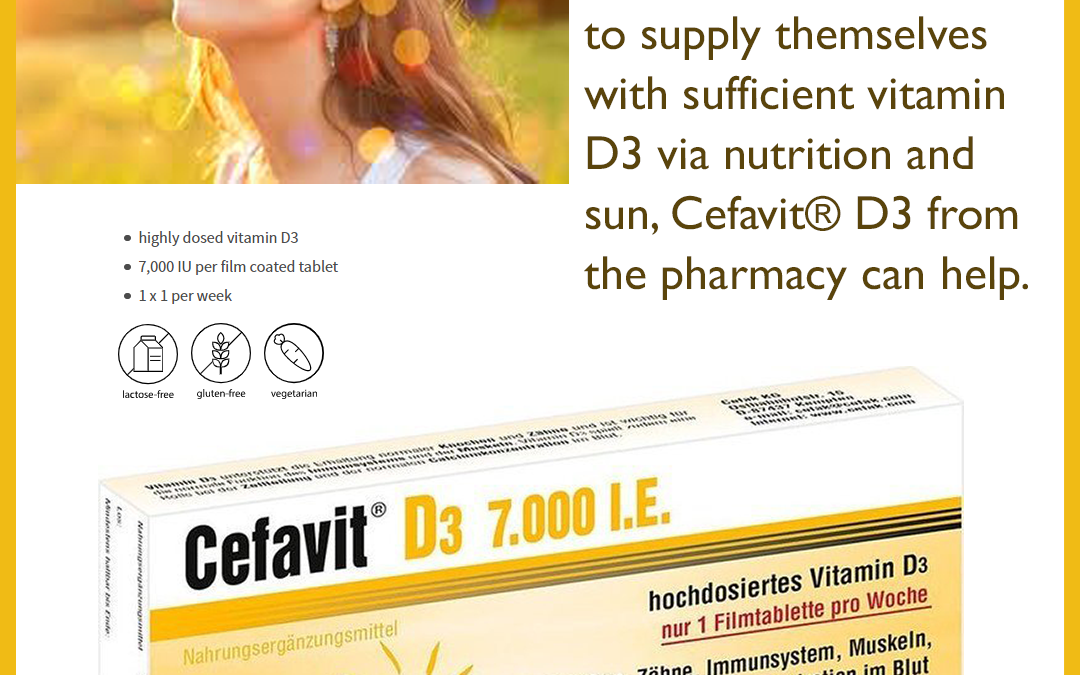 "Sun vitamin" Cefavit D3 7,000i.u. ONCE WEEKLY!
Patients with sufficient levels of vitamin D are less likely to experience complications and die from COVID-19, according to a new study in the US, while another has found it also reduces infection rates.
According to Dr Michael Holick , who recently published another study (1) finding that sufficient vitamin D can reduce the risk of catching the coronavirus by 54%, the vitamin can also help against other viruses affecting the upper respiratory tract.
The "sun vitamin" D3 is involved in a multitude of body functions. Among others, it serves for the maintenance of normal bones and teeth and supports a normal function of muscles and immune system*
Introducing Cefavit D3 7,000 i.u. x 20 tablets:
· in a convenient and cost effective ONCE-WEEKLY dose!
· lactose-free, gluten-free, vegetarian!
· also suitable for children (from 4 years) and adolescents!
· now available from pharmacies!
* Vitamin D supports the maintenance of normal bones and teeth as well as the maintenance of a normal function of the immune system and the muscles. Furthermore, Vitamin D has a role in the process of cell division and contributes to a normal calcium concentration in the blood. Food supplements should not be used as substitution for a balanced and varied nutrition and for a healthy way of life. The mentioned quantity, recommended for the daily intake, must not be exceeded. Please note the corresponding recommendations for consumption on the package.
(1) https://www.bumc.bu.edu/busm/2020/09/25/adequate-levels-of-vitamin-d-reduces-complications-death-among-covid-19-patients/