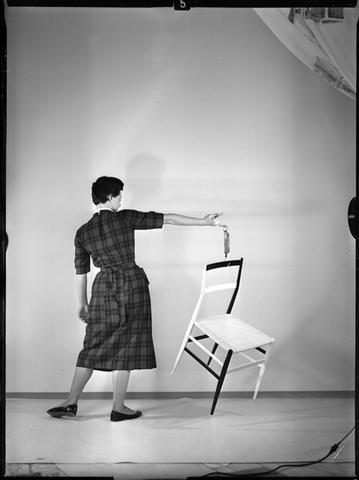 Holding design with a single finger – Giorgio Casali (1913-1995)
by Francesco Carelli Professor Family Medicine, Milan and Rome 
For over thirty years, Giorgio Casali (1913-1995) photographed the work of the greatest post-war Italian architects and designers.  
Although not a household name, Casali's reputation as one of the most influential 20th century Italian photographers is assured through the striking imagery he produced for the monthly magazine Domus – Italy's famous style bible.  This important exhibition at the Estorick Collection, from 22 May to 8 September 2013, presents a selection of works from the vast collection of Casali's images in the Archivio Progetti, housed at IUAV University in Venice.  With their incredible subtlety and sophistication, these masterful images reveal why Casali's vision came to be so valued by such important figures as Gio Ponti and Ettore Sottsass Jr.
Born in Lodi (Lombardy), Casali moved to Milan in 1928 where he worked as an apprentice in the Rambaldi photographic studio prior to establishing his own studio in partnership with Giovanni Muzzarelli.  His career was to take a giant step forward in the early 1950s as a result of the images he took of Gio Ponti's iconic Superleggera chair for Domus.  Casali's compositions effectively conveyed the design's key feature – extreme lightness – through the use of models holding the object with a single finger .  These images bore the hallmarks that were consistently to mark his work over the following three decades, being defined by their economy, wit, great elegance and commitment to presenting the object or building in question to its best advantage.  
Domus was founded by Gio Ponti in 1928, and quickly became an incredibly influential magazine, going on to play a key role in the international dissemination of the Made in Italy 'brand', which asserted a quintessentially Italian sense of style through the creative reinvention and reinterpretation of everyday objects.  Casali forged a collaborative relationship with Ponti that proved to be incredibly fruitful and which lasted until the early 1980s, his work charting post-war Italy's growing self-confidence and position as a world leader in the spheres of architecture and design.
The images on display span forty years of creativity in both architecture and design, and are presented in four sections, three of which examine different aspects of Casali's work for Domus.  The first is devoted to a selection of the thirty stylish cover images he created for the magazine, while the second and third explore his photographic treatment of key design objects and buildings.  These range from Ponti's elegant Torre Pirelli (Milan, 1956) and extraordinary Cathedral for the southern Italian city of Taranto (1971) to Roberto Monsani's Villa Brody (Greve in Chianti, 1973) with its jutting, angular forms.  Photographs of two celebrated lamps designed by Achille and Pier Giacomo Castiglioni – Arco (1962) and Ipotenusa (1975) – also feature, as do images of Gianni Pareschi and Umberto Orsini's Poltrona Libro armchair of 1970, which resembles an open book. 
Due to their iconic status, many of these design classics remain in production and examples of these are also  on display in the exhibition spaces, including Ponti's Superleggera chair and a mushroom-shaped, blown-glass lamp by Angelo Mangiarotti, dating from 1966. 
Alongside these works, the final section present a series of vintage prints by Casali that are entirely unconnected with the worlds of architecture and design.  These include pictures taken both in a professional context, such as wedding photographs, portraits and images of works by artists such as Fausto Melotti, as well as travel photographs and more intimate, private studies of friends and family members.  Such works, many of which have never been displayed until now, reflect the familiar aesthetics of post-war artistic photography in their concern with texture and tone, and their exploration of the relationship between abstraction and representation through an attention to the details of natural or man-made forms.
Casali's work bore witness to the extraordinary explosion of creativity and innovation in Italian culture after World War II, making this exhibition of interest not only to scholars of Italian art, architecture and design, but also to a public that recognises the exemplary value of the photographic image in chronicling the historical evolution of design.  
The exhibition not only enables visitors to discover the achievements of once-celebrated but now less well-known masters, but also to rediscover those of more familiar figures such as Ponti, Pier Luigi Nervi and Le Corbusier through the lens of this great photographer.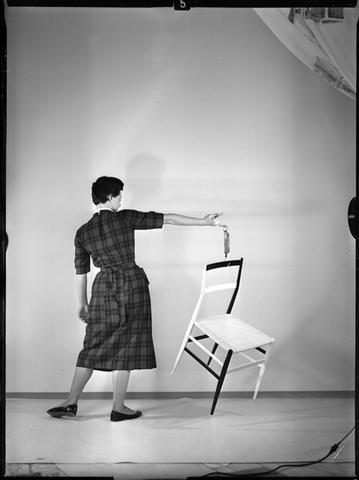 Superleggera chair, designer Gio Ponti, 1952.  Manufactured by Cassina; digital print on aluminium
( concession by Sue Bond Public Relations – Estorick Collection ) 
Tags In